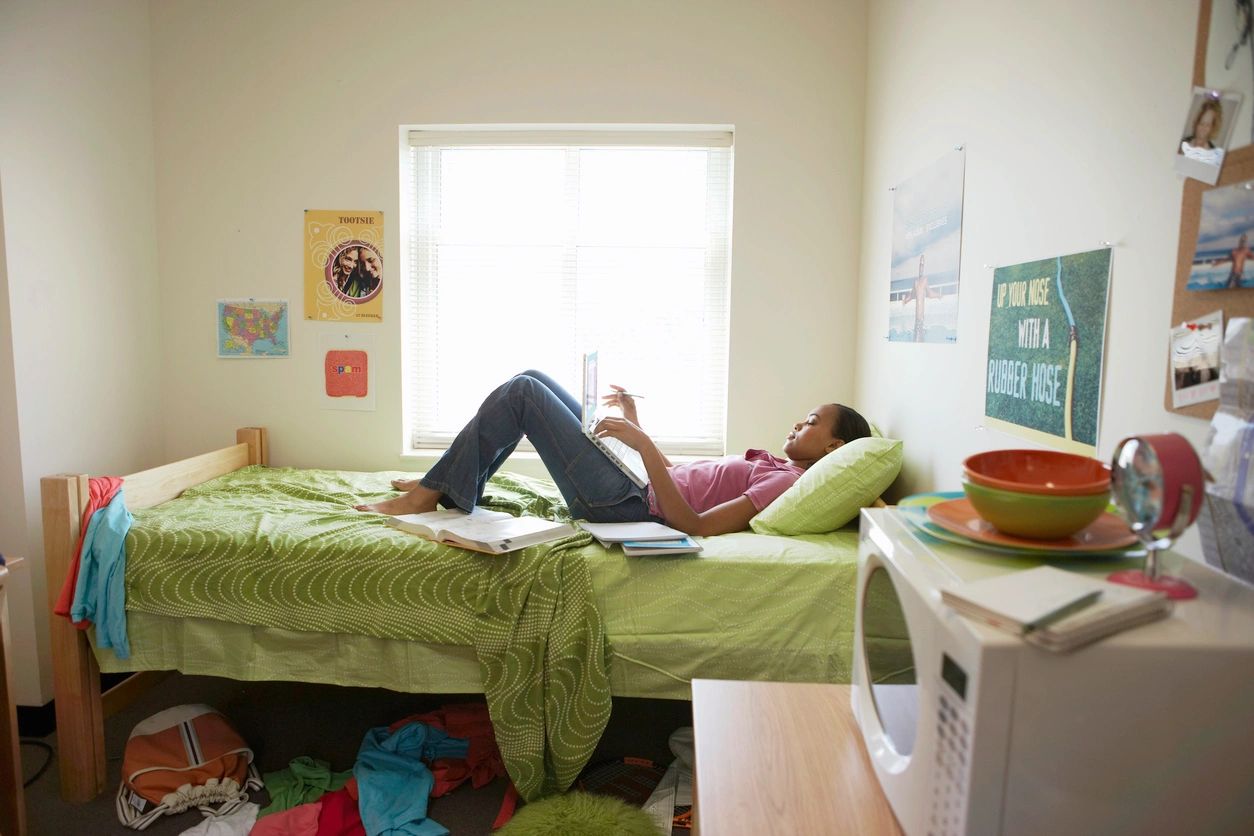 An emotional toll accompanies over-splurging on the aesthetics of college dorm rooms.
Encouraging your college freshman to prioritize experiences, connections, personal growth, academics, and resiliency over trendy dorm rooms is the first step in your student's success in college. Valuing aesthetics, linking happiness and success in college to a highly curated and stylish dorm room can often create anxiety and disconnection in the long run. Aesthetics don't last. Resiliency, overcoming loneliness, successfully prioritizing values, and focusing on long-term success will add to your child's ability to grow and mature in college. Aside from the obvious goal of academics, a successful college experience fosters independence, establishes a healthy comfort in being uncomfortable, and instills a sense of self-reliance and mental nimbleness.
When did we start enrolling our kids in college to prove they are wealthy and have good taste?
Hiring an interior decorator to transform a cinderblock dorm room into an Instagram-worthy studio does not add grit to your child. Instead, it burdens kids with pressure to strive for constantly shifting, unattainable lifestyle goals where hits of dopamine from 'likes' becomes more valued than authenticity, learning from discomfort or failure.
Grit and grace are not gifted. They are earned.
When we seek external validation, we hand over our power to others. We please. We minimize our strengths. We make ourselves small to fit in. We develop addictions. Why perpetuate an all too real devastating culture of Instagram highlight reels by overspending on unnecessary college supplies? Isn't college the time to experiment with personalities and preferences? Pigeon-holing your young and impressionable daughter into a lifestyle of material aspirations and perfectionism will hardly help her self-confidence in the long run. The short-term rush of approval, validation, or envy she might feel when she receives 'likes' or compliments will not help her survive and thrive in the long run.
Social media validation and social media approval-seeking are real. When someone craves and becomes dependent upon likes, comments, and their perceived image, it takes a toll on their behavior. Their sense of well-being becomes controlled by the opinions of others. It is impossible to thrive, to find joy in 'real-life' relationships and experiences if your self-worth is tied to other people's positive perceptions of you. Spending thousands on dorm room aesthetics feeds the addiction of needing validation.
The emotional toll of over-splurging on dorm rooms will wear off by the end of September. Where will she seek validation next?
What value does a designed dorm room add besides reinforcing comparison and feelings of not-enough? If your child is too delicate, insecure, or demanding to live in a dorm room without it being professionally decorated, is she mature and mentally nimble enough to go to college? No amount of matching sheet sets, monogrammed pillows, framed artwork, ambiance-throwing lamps, or wall-to-wall carpeting will stave off feelings of loneliness and overwhelm. Instagram-worthy dorm rooms will not make roommates get along or help her learn a new language.
Material possessions will not heal the completely normal and appropriate feelings of anxiety a teenager experiences when she leaves home for the first time.
Think of all the potential new friends who will view excessive materialism and assume they cannot afford to be friends with your child. Or worse, think of the potential loyal friends who will view your child's room as desperate insecurity, an extreme need to appear perfect? There are no mental health benefits to advertising your need to be 'liked' or attempting to impress others. There are unlimited healthy benefits to getting out of one's comfort zone, expanding friendships, overcoming fear of failure or judgment, learning to self-soothe, and showing up as authentically as possible. Striving for the appearance of perfection gnaws at a person's sense of well-being.
What long-term benefits come to a child who is burdened by proving her self-worth is dependent on material possessions?
Instagram influencers are often struggling behind the scenes with relationship, self-esteem, and self-confidence problems. They are driven by the need to present themselves as perfect. Their self-esteem is crushed under the weight of proving to the world they are happy, with perfect taste and unlimited resources. Relationships with themselves and others inevitably begin to erode.
Is life meaningful and worthy of living only if it can be manipulated to look perfect? That isn't real life. That is a mask.
And the problem with wearing a mask for too long is that we eventually become disconnected from ourselves. When we are disconnected from ourselves, we are numb, get into unhealthy relationships, sacrifice our values, and make ourselves sick.
How will your daughter cope when her room isn't cool anymore? When people are drawn to the fun girl's room down the hall? When she can't stand her roommate? When she feels lonely? How will those monogrammed pillows make her feel strong enough to keep going when her priorities and values are tested? Will her aesthetically pleasing dorm room help her mature? Step out of her comfort zone? Take healthy risks? Find authentic friendships?
Overspending on over-the-top dorm rooms is the real-life equivalent of getting 'likes' on social media.
The hit of dopamine that accompanies the 'ooohs' and 'ahhhhs' of those who walk by or 'like' online will fade. There will always be someone else whose room is better. Gorgeous dorm rooms do not translate into achievement, self-confidence, self-acceptance, or mental well-being. Instead, they contribute to comparison, imposter syndrome, inauthenticity, worry, and sadness because your child is so much more than a 'like.' Your child has so much more to offer the world than proving her self-worth with aesthetics.
Here are practical truths. College drop-off is highly charged on a good day. Cramming two families into a dorm room to build shelves and frustratingly hang framed artwork on cinderblock walls is stressful no matter what. You can count on outbursts and tears. Another reality? Within weeks, that Instagram-worthy room can be dismantled if roommate situations shift. Packing up those overpriced supplies is heartbreaking when your child decides to quit school at Thanksgiving. I've seen it happen.
Yes, making your child's college experience comfortable and special is important.
Yes, they should have fun and pick out new, trendy items if they can afford to do so. No, roommates who buy luxury matching sheet sets are not going to flunk out of school. No, having an eye for aesthetics and the finer things will not cause a mental breakdown. No, having resources and good taste does not predispose your child to mental illness or loneliness.
Striking a balance between comfort and over-splurging is crucial to your child's overall, long-term success and mental health. Material possessions will never fill the longingness in your child's soul. 'Stuff' will never make someone like themselves. We can never amass enough things to 'feel' like we are worthy. Those feelings of joy and security, and self-acceptance come from the inside. You earn that by making choices that support who you want to be in the future, not how good will the rush of dopamine feel in this moment.
Choose to spend your resources of time, energy, money, love, and good taste on the things that help foster resilience, self-acceptance, authenticity, and mental well-being.
Look beyond aesthetics. The emotional toll of overspending on dorm room trends is too high. Set your daughter up with what she needs and encourage her to make herself happy in college.
Your daughter will thank you in the long run.