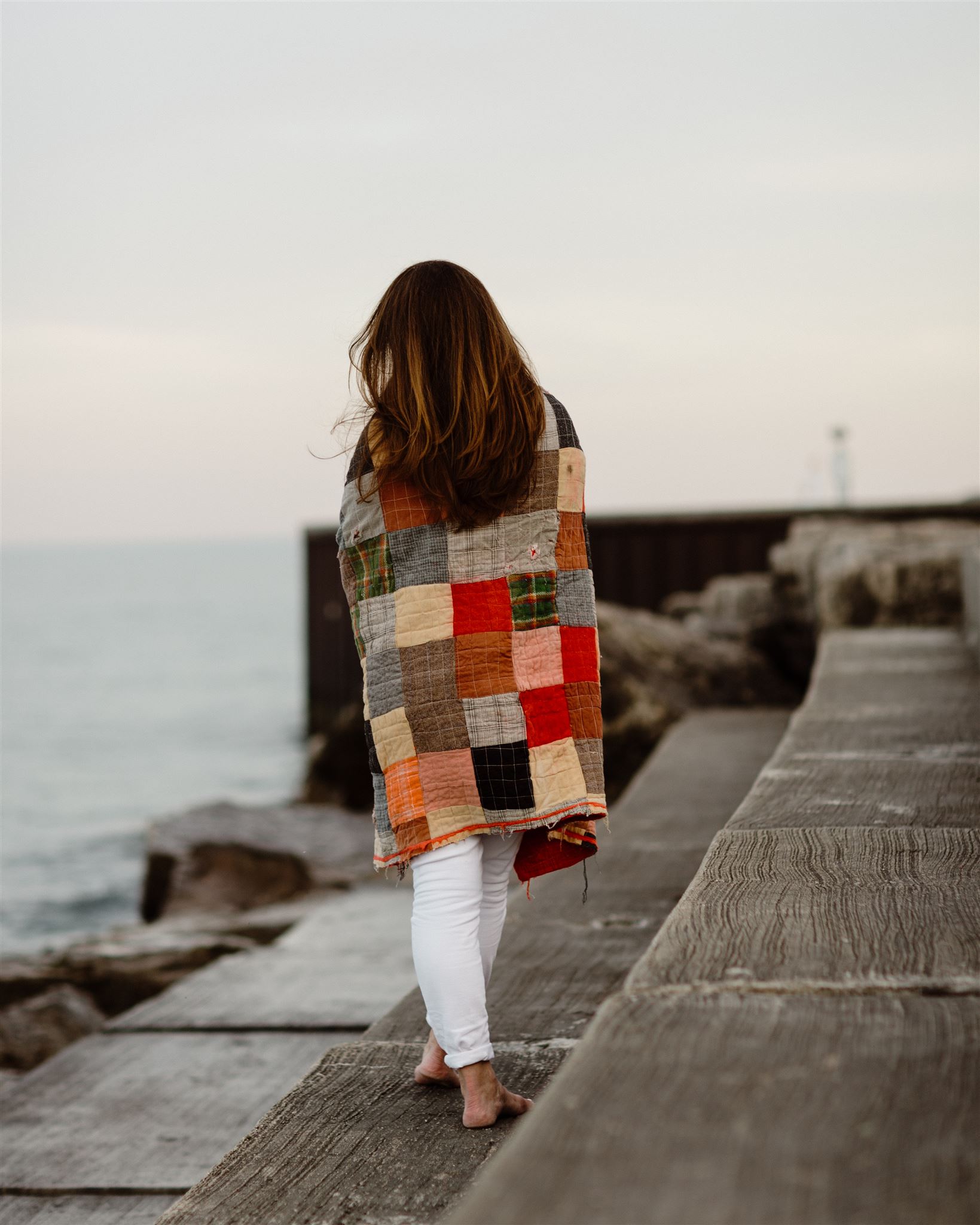 I love this time of year. The light is just starting to change from summer to Autumn. There's nothing like the feeling of the air turning crisp and the leaves beginning to change. The sound of dry leaves rustling in the trees and on the sidewalks is core memory stuff. It makes me hopeful and nostalgic, craving apple cider donuts and the sun's warmth on my face. 
Many of us look forward to fall all year. We can't wait to go bonkers with pumpkin spice everything, scented candles, and cozy decor for our homes. The allure of fall decorations is undeniable. 
I am loathe to print this for fear people will freak the eff out, like I've just declared war on joy or something:
But mindlessly decorating out of habit, peer pressure, or fear of judgment could be impacting your mental health. There. I said it. It feels almost un-American to consider NOT putting up fall decorations, but with the inception of both social media and fast fashion home decor, decorating for fall has been ratcheted up to competitive levels. 
Previously, we celebrated the season with low-cost, often harvested, natural decorations like corn, apples, pumpkins, dried branches, and yummy scents. Today, fall decorating for social media 'likes' adds to the stressful white noise of life. 
If you find fall decorating demanding and pressure-filled, you're not alone. 
We're conditioned to believe decorating your home and yard for fall is part of what you bought into when you became a grown-up woman and especially a mom. We are often made to feel obligated. The unwritten code reads: If you want to be a good mom or a festive neighbor, you must decorate for fall. 
Jeesh. What a ridiculous concept ~ that somehow you are not worthy if your house doesn't look like the Great Pumpkin barfed all over it.
I'm here to remind all y'all that decorating is optional.
We are told that whapping out decorations is just as normal as the passage of time and not a big deal. Well, it is a big deal. Don't forget, what goes up must come down. Soon, the fall decorations must come down so the holiday decorations can go up. The frenzied fall decorating season marks the beginning of High Expectation Season. It is exhausting. There is no shame in sitting out the season.
Buyer beware. Fall decorating can affect your time, resources, and mental health.
In most regions of the country, fall is celebrated. Hard. Big box stores seduce us with cheap and cheerful, almost disposable decor. We are bombarded on social media with images of pumpkin everything. The subtle message tells us if we aren't buying into the latest fall trend, we must be lazy, broke, curmudgeonly, or just plain anti-American. That is stressful. Given this, it is easy to fall (pardon the pun) into feelings of inadequacy or comparison. 
Social media amplifies pressure.
Influencers, friends, and neighbors showcase their picture-perfect homes, their fall outings, and their fall fashions. While these homes and photos are gorgeous, and I love them just as much as the next person, we can't ignore that these perfectly adorned homes can inadvertently set unrealistic standards for those who have limited time, desire, ability, or resources. Comparison can trigger feelings of anxiety and self-doubt, which strain our mental health. 
Think I'm making too big a deal about it? Do a gut check. Imagine you spend precious resources cultivating an autumn vibe you're proud of. Now imagine your neighbor swoops in and outperforms you in skill, time commitment, creativity level, and/or cost. Instead of feeling pride and joy, it is easy to sink into feeling not good enough.
And, speaking of cost, we cannot ignore the potential for financial strain.
Decorating for any season, including fall, can become financially burdensome. It is dangerously easy to overspend impulsively on the latest decor trends. Financial stress is a big, ole contributor to anxiety and depression. Be cautious; tread lightly when you commit to decorating for a season. Blindly spending on holiday decorations without thought diminishes joy. Being intentional and realistic with your resources will reduce stress, not add to it.
Heaven help me, but I will state another unpopular truth: yes, fall decorations can bring a cozy ambiance to your home, but they can also contribute to clutter, visual overwhelm, and storage nightmares.
An excessive amount of decor can make your home feel chaotic, cramped, and, dare I say, weirdly impersonal.
Are you trying to bring a vibe to the season or make people feel like they walked into a seasonal section in a big box store? Clutter is probably not the vibe you're going for. Clutter is distracting and overwhelming. This, no doubt, impacts one's sense of calm and relaxation. 
Additionally, if little kids are around, decorations often add the stress of reminding them to 'not touch.' Reduce clutter and make life easier and more enjoyable for the whole family. Clutter has been linked to higher levels of stress and difficulty focusing. Why would you willingly go out of your way to bring stress into your home?
Perfectionism and unrealistic expectations are constantly gnawing at our heels. Striving for flawlessness in every detail of your home can result in immense stress. Pursuing perfection often leaves little room for joy, fun, connection, authenticity, and memory-making. 
Our consumer-driven culture feeds on our shopping and 'likes' addiction.
Truth is, after the initial excitement of fall decorations wears off, people often find themselves feeling empty or dissatisfied. No amount of paper mache pumpkins or wooden 'Bless This Fall' signs can fix what hurts on our insides. If we feel not good enough or lonely before we decorate, we will feel not good enough or lonely after we decorate. Stuff will never make us feel comfortable in our own skin or make us feel whole. The cycle of anticipation and eventual letdown can negatively impact our moods, contributing to highs and lows of emotions. We must focus on what fills us with lasting joy instead of quick hits. 
Lastly, there is an environmental implication that cannot be ignored.
Many fall decorations made from plastic and other synthetic materials have negative environmental implications. Being aware of the ecological impact of disposable decorations can lead to eco-anxiety, a form of stress that stems from worries about environmental issues. Even if you don't consider yourself an environmental warrior, it is hard not to walk through a house crammed with plastic and not wonder/worry about where those decorations will end up and how that will affect the future. 
Let's be clear. I am not anti-holiday. I am not anti-decorations. I am anti-mindlessly decorating. I am anti-peer pressure decorating.
Instead of blindly succumbing to trends and societal pressures, take a hot minute and focus on what makes sense for you and your family.
What brings joy? What can you afford? Are you trying to prove something? Trying to fit in?  Are you feeling pressured into spending your resources in a way that doesn't feel authentic? These questions are worth asking. Every time you reduce stress, anxiety, and feelings of not good enough, you protect your mental health. 
While fall decorations undoubtedly add charm (I love them, too!) it is important to consider their impact on your and/or your family members' mental health. Finding a balance between celebrating the season and safeguarding your emotional reserves and mental health is more important than fitting in.